LENTIL QUINOA HEMP SEED MEATBALLS
​LENTIL QUINOA HEMP SEED MEATBALLS

These healthy meatballs have everything a good vegan meatball needs: just right spices, texture, moisture (without being mushy), and, as a bonus, surprising little flecks of flavor from sun-dried tomatoes. I'm usually way more excited about sharing sweet treats, but these lentil quinoa meatballs are like a savory sensory party in your mouth. I can't wait for you to try them.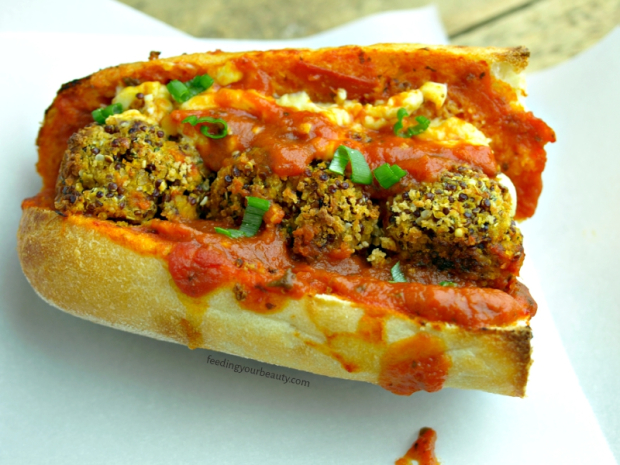 These gluten-free and vegan meatballs are loaded with lots of protein, fibre, and iron. You can make them completely oil-free by baking instead of pan-frying. Enjoy them in subs, on pasta, or switch up the spices and slather them in barbecue sauce. I drenched them in an Asian inspired barbecue sauce I threw together the other day and served them over vegan fried rice. The possibilities are endless!
Makes approximately 14 meatballs
Ingredients:
1 cup cooked red lentils, drained well
1/2 cup cooked quinoa (I used red quinoa, but any variety should work)
3 tbsp sun-dried tomatoes, chopped
1 tbsp ground flax seed
2 -3 tbsp hulled hemp seeds
1 tbsp oat flour
1 tbsp nutritional yeast*
1 tsp oregano, or to taste
1/2 tsp garlic powder
1/2 tsp onion powder
1/4 tsp sea salt, or to taste
1/8 tsp black pepper, or to taste
1/2 – 3/4 cup gluten-free bread crumbs or Panko bread crumbs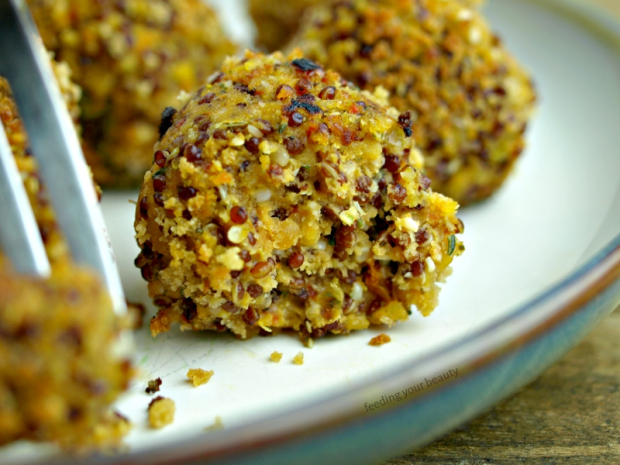 Instructions:
Combine all ingredients except bread crumbs in a food processor and pulse about 6 -8 times, until combined. Don't over mix. Add the breadcrumbs to a shallow bowl. Use a tablespoon to scoop out the bean mixture and use your hand to mould into a ball. You can't really roll them in your hand; gently shape them. Then, coat the bean balls in the crumbs by gently pressing, rolling them into the crumbs.
To cook:
Pan Fry Method: Add about 1 1/2 tbsp of coconut oil to a skillet and heat over medium heat until a crumb tossed in the oil sizzles immediately on contact. Add the bean balls and cook, turning over every 30 seconds until golden and heated through.
Baked: Pre-heat oven to 200 C. Place meatballs on a baking sheet and bake for about 15 minutes, or until lightly browned. Spritz lightly with cooking oil, if desired
Notes and Substitutions:
*The nutritional yeast is for additional flavour if you don't have it feel free to leave it out. I think it adds another subtle layer of savoury flavour.
Add a few pinches of red pepper flakes for a spicy meatball!
For more fantastic hemp recipes visit feedingyourbeauty.com