About Us
Welcome to Made In Hemp
Made In Hemp is a family owned Australian Company, we specialise in all things hemp related. We have a proven and dedicated network that is proficient in; procurement, distribution, wholesale, retail, education and online sales. We also specialise in providing education and consultancy services to those who want to learn more about hemp and its benefits. We are proud to be one of the founders, motivators and leaders in the Australian Hemp industry and have played a pivotal role in helping get Australia on board with this vital crop.
Our Personal Experience with Hemp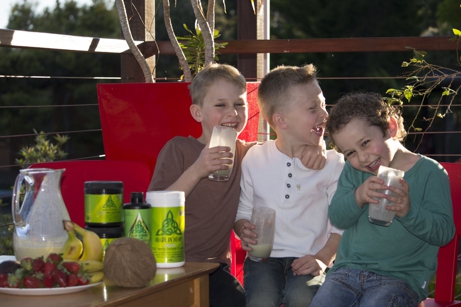 With a family background in farming Macadamis nuts in Northern NSW for nearly 40 years, Made In Hemp was founded after witnessing the role hemp oil had in treating a family member's eczema. This discovery became a very determined passion to distribute the finest available certified organic hemp seed foods and skin care so that others could also share and enjoy the benefits that hemp products offer. In addition, we strive to incorporate ecologically sustainable and fair trade resources into everything we do. These practices result in high-quality products benefitting both the consumer and the planet. Both hemp and bamboo, which are our core products in food, textiles or both are highly regarded and well documented to achieve those goals.
How Made In Hemp Started
From humble beginnings in Adelaide in 2004, Made In Hemp has enjoyed an ever expanding customer base. Originally trading through local markets and eBay, the business grew and grew to include major festivals and exhibitions. We are proud to say that we now have two brick and mortar stores of our own, a mobile store for events and markets as well as proudly showcasing our hemp seed, protein oil and body care range across Australia to quality health and organic shops. These stores choose to offer their valued clients our high quality products, further illustrating the efficacy and value of our range.

More Than Just Hemp
Over the years, both our clothing and body care ranges have evolved through continual refinement and advancements made through science, research and our own exploration. We are proud to offer our current range and look forward to you becoming one of our valued clients. Please don't hesitate to ask any questions, or provide feedback or suggestions. We strive to respond informatively, promptly and appreciate all correspondence.
Find Our Stores Today
Our flagship store is located in the heart of Long Jetty on the Central Coast of NSW. Here, you can find a fantastic range of hemp and bamboo clothing, bamboo sheets and towels, hand woven hemp rugs and our premium range of certified organic and ever-expanding hemp food products. We stock hulled hemp seeds, cold pressed hemp oil and hemp protein powders. We also have our luxurious hemp skin care range which is all made on the premises. You can also find us at our brand new concept store located in Newcastle's Islington. Opened in July 2017, this shop really is something special. It showcases all of your Made In Hemp favourites as well as all the hemp and bamboo clothing you have come to love.
Please don't hesitate to contact us at any of our locations! We are here to help with all things hemp: food, fibre and medicine.
---
Give us a call today to discuss your hemp needs on 02 4334 2000