Lamington Bliss Balls
Lamington Bliss Balls
14 - 16 balls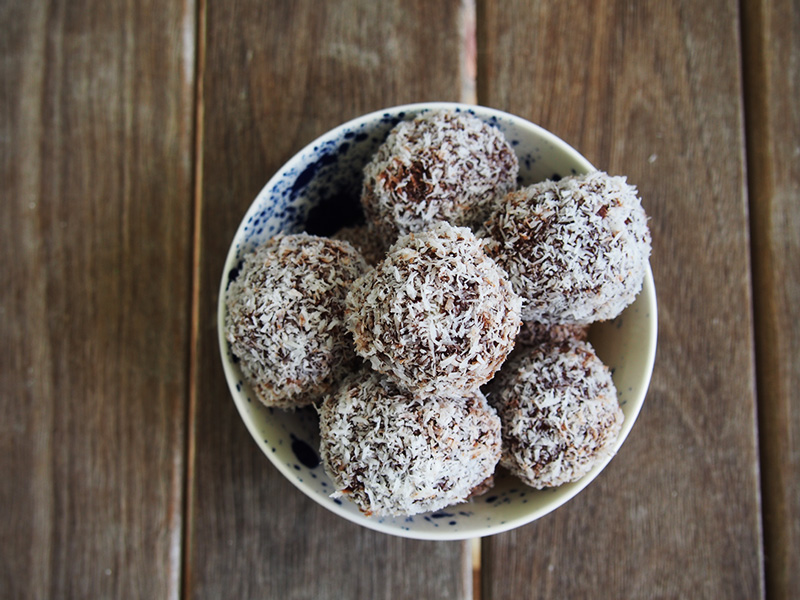 Ingredients
1/3 C Almond Meal
1/3 C hulled hemp seeds
1 1/2 C desiccated coconut
1/4 C coconut oil
1/4 C maple syrup
2 tsp vanilla extract
Chocolate Coating
1/4 C (50g) coconut oil
1 Tbsp (20g) maple syrup
1/4 C (20g) raw cacao powder
plus extra desiccated coconut for rolling
Instructions
Put the hemp seeds, almond meal, coconut, coconut oil, maple syrup and vanilla extra in a food processor or blender and blitz until all combined.
Scoop out tablespoon sized amounts of the mixture and roll them into balls (smaller if you wish) the place on a lined tray and put in the freezer for at least 30 minutes to firm up.
In a bowl make the chocolate coating by whisking the coconut oil, maple syrup and cacao powder together. At this time of the year, your coconut oil should be liquid but if not, place the jar of oil under hot water until it melts or in a saucepan and then whisk with other ingredients.
When the balls are hard, roll them in the chocolate mixture and then the coconut and put them back in the freezer to set, will take about 10 - 15 minutes then enjoy!
Store in the freezer for up to 3 months or in the fridge for about a week
Enjoy!