Hemp Pesto Pasta Salad
This recipe came together from an intense pasta craving and an abundance of basil in my garden. Plus, I knew this recipe would last the whole week - so I had the perfect excuse to eat pasta on the daily.
Please excuse the measurements as this was created on the fly and I could also never give someone an exact garlic measurement - garlic can only be measured from the heart!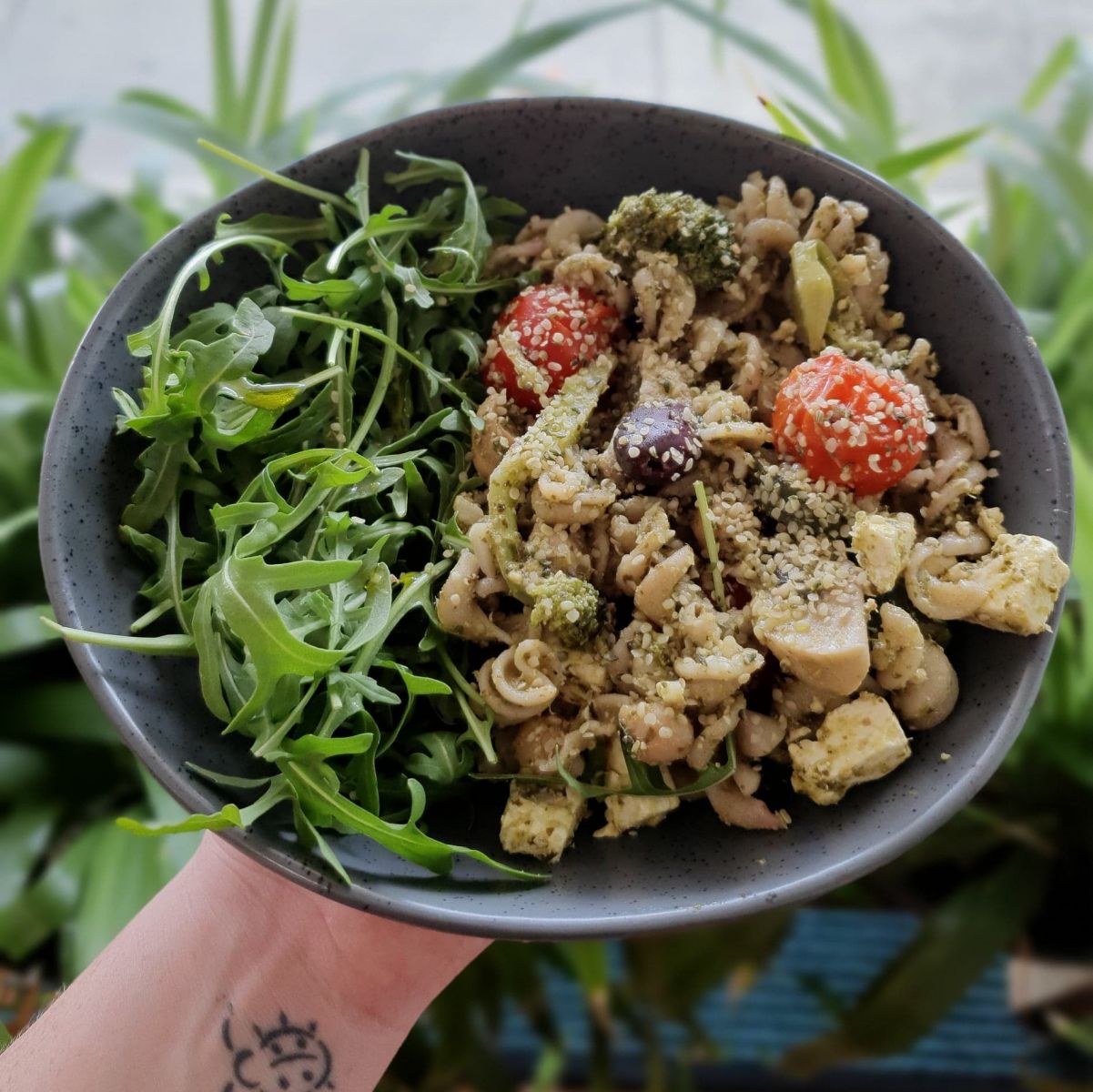 Serves 5
Ingredients (it's a long list - as I had a heap of veges to use up in my fridge)
2 cups of spelt spiral pasta (or whatever pasta you have on hand)
1 jar of pesto (or if you feel inspired - check out our hemp pesto recipe)
6 cup mushrooms - cut into 8ths
1 zucchini - roughly chopped
1/2 small head of broccoli - roughly chopped
4 (+) cloves of garlic- finely chopped
1 pack of vine-ripened cherry or snacking tomatoes (approximately 250 grams)
1 can of chickpeas (drained)
1/2 cup kalamata olives
200g of feta cheese (dairy-free options available) - cut into cubes
Rocket or Spinach - to serve with as a side
Drizzle of hemp seed oil
1 tablespoon of hulled hemp seeds
Method
Cook the pasta according to packet instructions - drain and set aside
In the same saucepan that you cooked the pasta in (because dishes), add a little oil before adding in the mushrooms. Toss in the saucepan for a couple of minutes before adding a dash of water and popping the lid on to steam.
After a couple of minutes, add in the zucchini, broccoli and garlic. Allow to lightly steam
Remove the lid and stir in the pesto and chickpeas
Add the tomatoes and allow the mix to heat until you see the skins of the tomatoes start to burst
Remove from heat and toss in olives, feta and pasta

There should be enough pesto to lightly cover everything - but if not you may want to add a little water to make it into more of a "sauce"

Allow to cool and divide into 5 containers, add a handful of rocket to the side of each container.
Drizzle with hemp seed oil and a sprinkle of hulled hemp seeds
Enjoy!